Evolution by natural selection requires three steps. New phenotypic variation 1) must arise, 2) must have an impact on fitness (survival or fecundity), and 3) must (ultimately) be heritable. The first step -- how new variation arises -- remains controversial. Traditionally, new phenotypes are ascribed to novel genotypes (mutants or recombinants). But developmental plasticity -- the same genotype yields different forms in different environments -- may be a much more important source of new phenotypes than generally recognized. This has renewed interest in its evolutionary significance.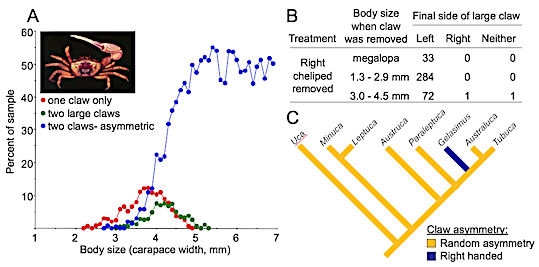 Development & evolution of claw asymmetry in fiddler crabs (Uca)
(see Science 2004, Current Biology 2009, Philosophical Transactions 2016)
Our work has yielded valuable insights into the causes and adaptive significance of several striking examples of developmental plasticity and our studies of the development, genetics and evolutionary history of right-left asymmetry variation have yielded some of the strongest evidence to date for a genes-as-followers mode of evolution (sometimes called genetic assimilation) -- a result that caught the attention of the Pharyngula blog. We continue to explore the interplay between developmental plasticity and evolution on both ecological time scales (via descriptive and experimental studies) and evolutionary time scales (via comparative studies).

Ongoing research includes:
evolutionary origins of novel energy-storage mechanisms in ultrafast shrimp and amphipod claws
limb and limb-muscle transformation in pre- and post-settlement barnacles
comparative morphology of doubly asymmetric, rock-boring snapping shrimp
identification of sound-producing invertebrates in coastal British Columbia
role of learned, handed behavior in the evolution of morphological asymmetry
development and evolution of morphological asymmetries in many taxa

West Side Bamfield & Barkley Sound, from BMSC
Our research is funded by:

| | |
| --- | --- |
| | T.H. Huxley's 'The Crayfish' on-line (a WONDERFUL, turn-of-the-century essay on Zoology for the layman; complete with hot-links to a glossary and copies of the original woodcut figures) |
&nbsp


ZOOL250
Survey of Invertebrates
(extensive WWW content;
through 2017)
BIOL506
Systematics & Evolution Forum
(through 2017)
MASC415
Animal Structure & Function
(in the Bamfield Fall Program;
through 2020)
International


---

Invited Speaker (Aug., 2015)
Inaugural Meeting, Pan-American Society for Evolutionary Developmental Biology
Berkeley, California
Keynote Speaker (April, 2014)
Symmetry and Asymmetry in Biology
Museum national d'Histoire naturelle, Paris
Quoted in New Yorker Essay (2010)
The Truth Wears Off (Jonah Lehrer)
New Yorker (Dec. 13, 2010)
Visiting Professor (2009-2010)
Royal Netherlands Academy of Sciences
Naturalis, Leiden
Invited Participant (2008)
Lorentz Center Workshop
Symmetry as a Modern Scientific Concept
Leiden University
Invited Plenary Lecture (2006)
Gordon Research Conference:
Organic Reactions & Processes
Bryant University, Rhode Island
Invited Plenary Lecture (2003)
100th Anniversary University of Puerto Rico Graduate Student Research Symposium: "Biology of the New Millennium", San Juan, Puerto Rico
Invited Plenary Lecture (2001)
International Symposium on Chirality
Orlando, Florida
Invited Plenary Lecture (2000)
German Zoological Society
Annual Meeting, Bonn, Germany
Invited Participant (1996)
US National Academy of Sciences Colloquium: Symmetries Throughout the Sciences
76th President (1995)
Western Society of Naturalists
Presidential address: "On koans and two-headed fish"

National


---

Honorary Member (2018)
Canadian Society of Zoologists
Co-chair Ecology & Evolution
Grant Selection Committee (Appointed 2012)
NSERC Canada
Fellow (Elected 2007)
Royal Society of Canada
(UA Express News Story)
Inaugural Chair (2005-2007),
Secretary-General (2007-2018)
Comparative Morphology & Development Section,
Canadian Society of Zoologists




University of Alberta


---

Killam Award for Excellence in Mentoring (2014)
Faculty of Graduate Studies and Research
Graduate Mentoring Award (2014)
Faculty of Science
Graduate Student Supervisor Award (2011)
Graduate Student Association
Gordin Kaplan Award (2010)
for Excellence in Research
(UA Express News Story)
McCalla Research Professor (2000/2001)



Award for Excellent Teaching (2000/2001)
Faculty of Science