Department of Biological Sciences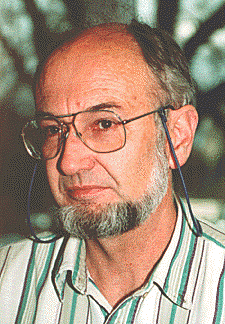 DOUGLAS A. CRAIG




Rank: Professor Emeritus (1st July 1997)

Mailing address: Department of Biological Sciences, Faculty of Science, CW 405 Biological Sciences Building, University of Alberta, Edmonton, Alberta, CANADA T6G 2E9

Office: Room 2-26A, Earth Sciences Building

E-mail: d.craig@ualberta.ca.

Phone Numbers: Office (780) 492-3716, Home (780) 436-1417
Fax Number: (780) 492-1767
Academic Degrees
Areas of Involvement
Special Interest Groups:
Environmental Biology & Ecology; Systematics and Evolution
Research interests
Previous:


My Ph. D. Thesis, done at the Zoology Department, University of Canterbury, Christchurch, New Zealand, under the supervision of Dr. Vida Stout and Dr. Robert Pilgrim, was on the biology of New Zealand Blephariceridae (Net-Winged Midges). This was a broadly based piece of work and encompassed alpha-taxonomy, zoogeography, embryology, ecology, larval behaviour; in essence a little of everything.

At the Department of Entomology, University of Alberta, I began a research project on the embryology of Simuliidae (Black Flies) as part of a major investigation by Dr. Brian Hocking on the biology of the larval stages of these medically important flies. This work was funded by World Health Organisation. I soon became interested in the functional morphology of the filter feeding apparatus of the larvae, namely the labral fans. Fanless Black Fly larvae were available locally and this lead me to investigate the homologies and evolution of the fans. This in turn lead to the aquisition of Scanning Electron Microscopes in the early 1970's, of which heavy use was made in investigation of structural aspects of feeding behaviour in Black Fly larvae. Some of those SEM micrographs have been widely published.

Efforts to understand the flow of water through the labral fans, integral to determining how efficient the fans were, received a major impetus with the publication of Vogel's "Life in Moving Fluids" in 1981. That work allows biologists, not trained in mathematics, to apply simple physical principles to the abiotic template in which organisms operate, and to see how organisms might even manipulate the physical aspects of their situation.

We now know a considerable amount about how Black Fly larvae deal with and manipulate, the proximal flow around themselves, both individually and in groups.

Current reseach:
I now focus on the hydrodynamics involved in evolution of body form in aquatic insects, but also on hydrodynamics of aquatic insects in relation to; hydraulic regimes; microhabitat selection; filter feeding; ingestion of DOM; escape mechanisms and locomotion. I still retain my long-term interest in the Simuliidae (Black Flies); in their larvae, pupae and adults. Recently, I worked on Blephariceridae again, investigating low pressure areas associated with the pupal gills. More recently I have been concentrating on Polynesian Black Flies, specifically their alpha-taxonomy (Craig 1997) that will lead to work on their phylogeny and biogeography.
Personal Information
Name: Douglas Abercrombie McBeath Craig.
Date of Birth: 24 October 1939.
Birth Place: Nelson, New Zealand.
Marital Status: Married - two children.

PROFESSIONAL SOCIETIES
American Association for the Advancement of Science
Entomological Society of America
Entomological Society of Canada
Canadian Society of Zoologists
International Limnological Society
Canadian Limnological Society
North American Benthological Society
Microscopical Society of Canada (Honorary Member 1993)
Fellow, Royal Microscopical Society, London
Microscopy Society of America
Pacific Science Association

Publications
Presentations at Meetings
Graduate Students
Students
Theses
Publications
Courses Taught
Stream Ecology & Hydrology, Biol 607.99 (University of Calgary)
Field Course, Kananaskis Field Station, July 9 to July 16, 2000,
Lectures and field studies concerning the habitat and hydaulics of flowing water in streams and rivers. The theory and field exercises can be applied to enviromental assessments, habitat research and design of stream restoration projects.

INSTRUCTORS.

Dr. Robert. Newbury, Simon Frazer University. E-mail:- newbury@sunshine.net
Dr. Joseph Culp, Hydrology Research Institute. E-mail:- Joseph.Culp@EC.GC.CA
Dr. Douglas Craig, Department of Biological Sciences. E-mail:- d.craig@ualberta.ca





Faculty
Biological Sciences Home Page


(Updated Friday, February 26, 2010)