Dr. Asad Ahmed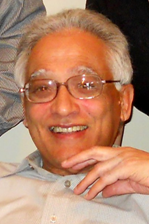 Professor Asad Ahmed passed away peacefully in Edmonton Alberta (Canada) on Saturday, March 29, 2014. He is survived by his wife Samin. He had a short struggle with advanced pancreatic cancer but died peacefully with Samin and his brother Khursheed Ahmed (from Hamilton ON) on his side. He is survived by 4 brothers and 6 sisters as well as a large number of loving nieces and nephews all over the world.
Prof. Asad Ahmed was born in Saharanpur, India on November 8, 1939. He received his early education at Aligarh Muslim University, where he earned a Gold Medal as the top student in MSc and later finished his PhD in Botany. Soon after, he was awarded the Fulbright Fellowship (1960 to 1964) in USA and pursued his graduate studies in Molecular Genetics at Yale University and earned a second PhD with high honours. After a short stay at Dalhousie University in Halifax he moved to University of Alberta, Edmonton in 1966, where remained a Professor of Genetics with a productive research career until he retired in 1994. During his academic career he published numerous academic papers specializing in Molecular Genetics and Recombinant DNA technology
Prof. Ahmed was an admirer of nature and spent much of the time with his wife at their country home in Sherwood Park outside of Edmonton. He loved to read and had large collection of books on world history and culture.
During the last 15 years of his life, he played a key role in organizing Summer University in research methods at his first Alma Mater in Aligarh, India, with the support of several other professors with similar passions. A large number of young students and academics benefited from short courses to pursue excellence in research in various disciplines.
Prof. Ahmed was buried at White Chapel Cemetery in Hamilton, ON.
Last Modified: 2014-05-08