---

Fly Kitchen - Drosophila Service Unit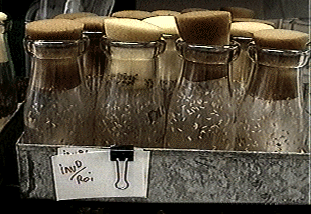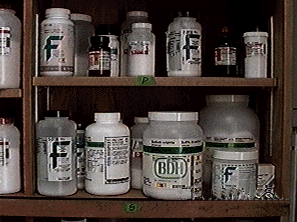 The five Drosophila researchers (Drs. Bell, Campbell, Hodgetts, Locke and Russell) run a centralized fly kitchen for making and dispensing bottles and vials of fly food.This service also provides food and assistance for the undergraduate genetics labs that use Drosophila.
A technician cleans the glassware, makes and delivers the food, and retreives the used bottles and vials. We also have (sort of) the ability to provide an "in situ hybridization service" and "transformation service". I oversee the running of this Drosophila service unit.
---

DiTRL & the Learning Initiative Committee (LIC)
I am on the Learning Initiative Committee (LIC) which advises the Department on the use and direction of computer use, specifically the Digital Teaching Research Laboratory (DiTRL). This Departmental facility, located in room ESB 2-27 (492-4652), has state-of-the-art computer facilities for the construction of digital images, web pages, posters, and video. This includes print and slide scanners, printers, and assistants eagar help with your tasks. Its primary goal is to provide a means by which faculty, graduate students, technicians, and others can create digital visual aids to enhance the teaching in the classroom or lab.
---

Undergraduate Student Advising - (Past duty)
I used to provide formal advice to undergraduate students in the Genetics and Molecular Genetics Program on their course selection. I still provide informal advise to students and direct those requesting information about "Genetic Conselling".
---
Copyright © 1999 John Locke