Mark Andruskiw

Printer Friendly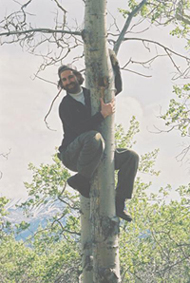 Email: mca2@ualberta.ca
Education
2003 to present - Ph.D. candidate, Ecology and Ecology, Department of Biological Sciences, University of Alberta
2003 - M.Sc. Zoology, University of Guelph
2000 - B.Sc. Zoology, University of Guelph
1994 - B.E.Sc., University of Western Ontario
Thesis Title
What drives natal dispersal?
Project Summary
My central question is "Why do animals disperse?" Traditional hypotheses for the ultimate causes of dispersal (Competition for Resources, Competition for Mates, Inbreeding Avoidance) have been treated simplistically in that their co-influence and interaction have not been explored, and they are assumed to drive dispersal under all conditions.
I am taking three approaches to answer this question. First, I am analyzing almost 20 years of dispersal behaviour from individual red squirrels of known lineage, available resources, and spatial relations to conspecifics in an environment where food, competitors, and predators fluctuate over a 5-fold range. This allows me to examine the contribution of these proximate causes at all combinations of their levels and test hypotheses about the ultimate causes of dispersal.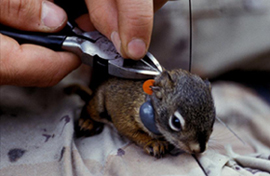 Second, I am testing the settlement criteria of dispersers in the field by manipulating the availability of territorial vacancies in relation to resource abundance and the proximity to relatives and potential mates. Third, I am examining the spatial genetic structure of the population to determine the underlying dispersal model. Quantitative predictions of the spatial genetic structure from competing dispersal models are generated with a spatially-explicit individual-based simulation model of dispersal.
The power of this study lays in the ability to model dispersal behaviour at the individual level. With this long-term study in a variable system, I expect to make large advances in our understanding of what drives natal dispersal.
Hobbies/interests
wilderness tripping, battles of wits, philosophy and strong drink
Publications
Andruskiw, M.C. 2003. Prey abundance, availability, and anxiety in structured environments. M.Sc. thesis, University of Guelph, Guelph, ON.
Fortin, D. and M.C. Andruskiw. 2003. Behavioral response of free-ranging bison to human disturbance. Wildlife Society Bulletin 31: 804-813.
Andruskiw, M.C., B.L. Ryder, and I.D. Thompson. (in review). Key to the identification of guard hairs of boreal small mammals. American Midland Naturalist.
Andruskiw, M.C. (submitted). Cross-sectioning mammalian hair for identification. Wildlife Society Bulletin.
Andruskiw, M.C., I.D. Thompson, J.M. Fryxell, and J.A. Baker. (submitted). Foraging path tortuosity reflects habitat quality for American marten. Journal of Applied Ecology.
Andruskiw, M.C., I.D. Thompson, J.M. Fryxell, J.A. Baker, and C.A. Johnson. (submitted). Predation efficiency of marten in relation to habitat structure. Ecology.