Jennifer Waller
Research Interests:
Host-parasitoid interactions; Insect population dynamics; Spatial and temporal patterns.
Thesis:
Forest tent caterpillar parasitoid community shifts across the 'front' of an advancing outbreak in northern Alberta's boreal forest.
The forest tent caterpillar (Malacosoma disstria) (FTC) is one of the most widespread defoliators of aspen-dominated boreal forests across Canada. Outbreaks of forest tent caterpillar are spatially and temporaly dynamic, often exhibiting a pattern of 'traveling waves' with an approximate 12 year periodic outbreak cycle. Currently, there is a large outbreak of forest tent caterpillars in Alberta around Ft. McMurray which is expanding in its extent.
Forest tent caterpillars:


Field sites:


Lagged host-parasitoid interactions are one of the main factors driving the 12-year cycle of FTC dynamics. Also, the spatial structure of the traveling wave may be determined by the pattern of interaction between host and parasitoid abundance at the 'front' of this traveling wave. Eighteen primary species of parasitoids are known to attack FTC in Alberta's boreal forests (Parry 1994). Parasitoid species composition and rate of parasitism, however, can differ through the phases of the host's approximate 12-year cycle (Sippell 1961, Parry et al. 1997). Over-all patterns of change in parasitism have been largely pieced together from disparate sites at different phases of the cycle, often separated by hundreds of kilometres. This amalgam of data has to some extent limited our understanding of the role of parasitoids within individual populations. This is exacerbated by the virtual absence of data from low-density but increasing FTC populations - the phase which is probably the most critical for understanding what prevents or facilitates outbreaks.
Camping at Christina Lake, out in the field:


Therefore, I am investigating how the forest tent caterpillar (FTC) parasitoid community changes as the density of FTCs shifts from endemic to epidemic to post outbreak levels. I am looking at a relatively small spatial scale over a continuous area and a continuous gradient of FTC densities in order to achieve a better understanding of the fine-scale interactions in this host-parasite system across the 'front' of an advancing outbreak. The results of two consecutive summers will be compared to identify if each parasitoid species responds rapidly or slowly to changes in FTC density on the time scale of the advancing outbreak, and spatially across its gradient. The results of this study will help to interpret the pattern of dynamics being studied over larger spatial and temporal scales. My study will also increase our knowledge of the geographic distribution of parasitoids of the forest tent caterpillar, and provide additional new data on parasitoids dominating at low and increasing FTC density.
Raising FTC in the garage at Meanook biological research station: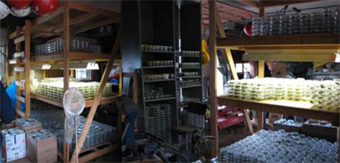 Some of the wildlife:


Literature Cited:


Parry D. 1994. The impact of predators and parasitoids on natural and experimentally created populations of forest tent caterpillar, M. disstria Hübner . MSc. Thesis, U Alberta, 91 pp. Parry D, Spence JR, & WJA Volney. 1997. Ecol Entomol 22: 97-108. Sippell WL. 1961. Can. Entomol. 93: 433-436.
Contact Information:
Jennifer Waller, MSc Student
Email: jwaller@ualberta.ca
Last Modified: 2011-04-29