Research Projects

Printer Friendly
Characterization of IpLITR ligand(s)
| | |
| --- | --- |
| | Catfish LITRs are related to receptors expressed by mammalian immune cells. Many of these receptors recognize a protein call major histocompatibility (MHC) class I. Recognition of MHC class I is important for detecting virally infected cells as well as tumors and recent |
analysis of the different catfish LITR sequences has revealed that these fish proteins might also recognize and bind MHC class I.
| | | |
| --- | --- | --- |
| Therefore, experiments designed to study the interactions of LITR and MHC (and possibly other ligands) will be performed. If catfish LITRs do indeed bind MHC class I, this will be the first description of an immune receptor-MHC interaction in a non-mammalian vertebrate species. |   | |
Examination of IpLITR-mediated cellular signaling pathways.
Immunoregulatory receptors activate and/or inhibit cellular responses and these effects are dependent on their ability to recruit intracellular signaling proteins. Recruitment of these proteins is determined by transmembrane (TM) regions and/or motifs encoded within the cytoplasmic tails (CYT) of individual receptors.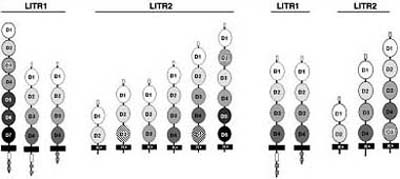 Like their mammalian relatives, catfish LITRs can be classified as putative stimulatory or inhibitory receptors based on analysis of their TM regions and CYT. This reinforces the notion that LITRs are immunoregulatory receptors and experiments designed to understand LITR-mediated signaling pathways will provide further details regarding their roles in regulating cellular immune responses. These experiments may also reveal that conserved signaling pathways exist between certain teleost and mammalian immune receptors.
To clone and characterize the LITR-related sequences in zebrafish.
The discovery of LITRs in catfish is significant in that this model system is ideal for studying cellular responses and for characterizing the functional significance of immune-related genes. This is primarily due to the availability of clonal leukocyte cell lines and several antibody reagents.

Nonetheless, we have limited genomic information about this novel immune receptor family. However, database mining revealed that LITR-like genes are also present in the zebrafish genome, which represents an important immunological system for studying the immunogenetics of these receptors.
A bioinformatics approach will be used for the identification of teleost LITR-related sequences from available genomic databases (i.e. zebrafish, pufferfish, and salmon), which will provide information regarding the chromosomal location(s) and genomic organization of these receptors. Furthermore, following the identification of LITR-related genes in zebrafish we can use established protocols including in situ hybridization, morpholino-targeted gene knockdowns, as well as the development of LITR reporter assays, to further explore the significance of teleost LITRs.