Dr. James L. Stafford > Associate Professor

Printer Friendly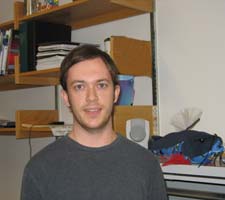 Contact
Room: Z 508, Biological Sciences
Phone: (780) 492-9258
Fax: (780) 492-9234
Email: stafford@ualberta.ca
Academic Training
B.Sc.: University of Alberta
Ph.D.: University of Alberta

Current Research Interests
| | | |
| --- | --- | --- |
| |   | My primary research focus is to further develop channel catfish (Ictalurus punctatus) as an immunological model system for studying the evolution and functions(s) of conserved innate immune receptors. Specifically, I am interested in exploring the functional significance of a novel family of immunoregulatory receptors termed |
channel catfish (
Ictalurus punctatus
)
L
eukocyte
I
mmune-
T
ype
R
eceptors (
IpLITRs
).
These receptors have never been described in fish but are related to several immune receptors in mammals expressed by cytotoxic T cells and Natural Killer (NK) cells that participate in the detection and elimination of virally infected cells and tumors.
| | | |
| --- | --- | --- |
| This novel finding reinforces that key innate immune receptors have been conserved throughout vertebrate evolution. Characterization of these proteins in a non-mammalian immunological model system such as the channel catfish will provide important information regarding |   | |
the evolution and significance of conserved innate immune receptors networks. These studies may also provide further insights into our present understanding of anti-viral and anti-tumor protection mechanisms throughout vertebrates.
| | | |
| --- | --- | --- |
| |   | Farm raised channel catfish are an important aquaculture crop that have significant economical benefits. In addition, catfish are the only fish species from which clonal leukocyte cell lines have been established and characterized. The availability of these cell lines has proven to be an extremely powerful research tool for studying cellular immune responses, currently not available in other fish species like zebrafish and trout. Due to the establishment of in vitro cultivation |
techniques and clonal leukocyte cell lines, catfish are known to possess the mammalian equivalents of T cells, B cells, NK-like cells, and macrophages. Functionally, catfish immune cells are very similar to their mammalian counterparts but their regulation by immune receptors is largely unexplored due to the lack of cloned receptors.
| | | |
| --- | --- | --- |
| Consequently, an extraordinary effort has focused on the identification and characterization of fish immunoregulatory receptors such as the recently identified channel catfish LITRs. The availability of established leukocyte cell lines that express LITRs in catfish will contribute significantly to the development of an immunological model designed to further understand the evolution and function(s) of conserved innate immune receptors. |   | |
Current Research Projects
1. Characterization of IpLITR ligand(s).

2. Examination of IpLITR-mediated cellular signaling pathways.

3. To clone and characterize the LITR-related sequences in zebrafish.