Dr. Heather E McDermid > Professor

Printer Friendly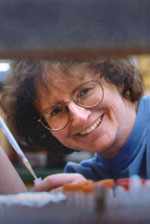 Contact
Room: G 508, Biological Sciences
Phone: (780) 492-5377
Fax: (780) 492-9234
Email: heather.mcdermid@ualberta.ca
Academic Training
BSc: University of Western Ontario
MSc: University of Western Ontario
PhD: Queen's University
PDF: The Children/'s Hospital of Philadelphia, Human Genetics

Current Research Interests
Mouse models of neural tube defects
Neural tube defects (NTDs), including anencephaly and spina bifida, are the second most common birth defect in humans, with a frequency of approximately 1/1000 births. NTDs are caused by the failure of the neural tube to close during early development of the brain and spinal cord. Closure failure in the part of the neural tube that forms the brain results in anencephaly (called exencephaly in mice). The brain forms completely abnormally and the cranium is absent, resulting in death at birth.

We are studying the gene Cecr2, which when mutated causes exencephaly in mice in a strain dependent manner: the mutation on a BALB/c mouse strain shows exencepahly in 75% of embryos, but this same mutation on the FVB/N mouse strain shows relatively normal brain development in all embryos (Banting et al, 2005). We have mapped to mouse chromosome 19 a gene that modifies Cecr2-induced exencephaly, partially leading to the strain difference in susceptibility (Davidson et al, 2007). Exploration of these two genes, Cecr2 and it's major modifier, will add to our understanding of both neural tube defects and the mechanisms of normal neurulation.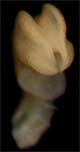 Figure 1: Mouse embryo at 9 days gestation, just prior to closure of the cranial region of the neural tube. (picture – Erica Kubanek)

NOTE: I am looking for a new graduate students to work on this project, beginning September 2010. (See Graduate Student Opportunities)

Project #1
The role of Cecr2 in development
The protein CECR2 is involved in chromatin remodeling, and with SNF2L (SMARCA1) forms the CERF complex, with ATP-dependent chromatin remodeling activity (Banting et al, 2005). We are exploring this interaction and the downstream genes that CERF may act upon.
Our work to date has been done on a mouse genetrap mutation, which produces a CECR2-b-gal fusion protein and thereby allows us to track Cecr2 expression with X-gal staining. Figure 2 shows that Cecr2 is expressed not only in the brain and spinal cord, but also the spinal ganglia, eye, nasal epithelium, limbs and other sites. Because there is a low level of normal Cecr2 produced in the genetrap mutation, we are also characterizing a new, possibly null allele of Cecr2.




Figure 2: X-gal staining of 13.5 day Cecr2 genetrap mutant heterozygote embryo showing the expression of the Cecr2-lacZ fusion gene. Note expression in the brain, spinal cord and spinal ganglia, as well as nasal cavity epithelium, eyes and limbs. (Picture by Dr. Graham Banting)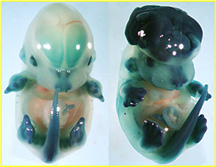 Figure 3: X-gal staining of 13.5 day embryos. The embryo on the left is normal, being heterozygous for the gene-trap mutation. The embryo on the right shows the neural tube defect exencephaly. (Picture by Dr. Graham Banting)

The X-gal staining in some nonneural tissues has lead to the discovery of more subtle defects in the Cecr2 mutants, indicating that Cecr2 plays a role in kidney development and fertility.


Figure 4: X-gal staining of testes from mice heterozygous for the Cecr2 genetrap allele (left) and wildtype (right). (Picture by Erica Kubanek)

Project #2
Identifying the major genetic modifier of Cecr2-related exencephaly

We have mapped a major modifier locus to mouse chromosome 19 (Davidson et al, 2007, Figure 5). This site corresponds to 10q25.3, which is one of the few sites linked to NTD susceptibility in humans (Rampersaud et al, 2005, J. Med. Genet. 42;940-946). Therefore, identification of the modifier in Cecr2-mutant mice may shed light on NTD susceptibility in humans. We are currently examining candidate genes for this modifier. We have shown that the strain difference does not involve the location of closure site 2 (Figure 6), which has been associated in other studies with variation in NTD susceptibility (Fleming and Copp, 2000, Hum Mol Genet 9:575-581)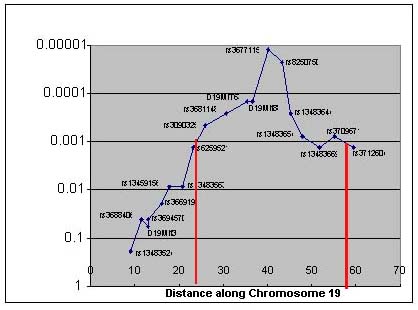 Figure 5: Genetic mapping to mouse chromosome 19 of a major modifier gene associated with exencephaly. (Davidson et al, 2007).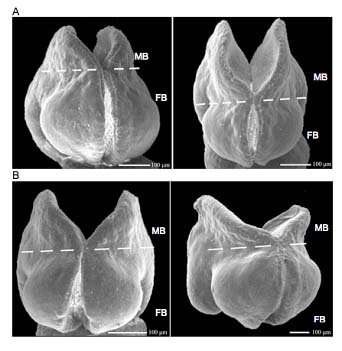 Figure 6: At 9 somites, both BALB/c (A) and FVB/N (B) wildtype strains show normal elevation of the neural folds and the location of closure site 2 at the same site, the forebrain midbrain boundary. Rostral scanning electron micrographs. FB (forebrain) MB (midbrain) (Davidson et al, 2007)