Dr. Christine M Szymanski > Professor and
Alberta Innovates Scholar

Printer Friendly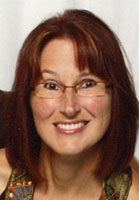 Contact
Room: 6-061, CCIS
Phone: (780) 248-1234
Fax: (780) 492-9234
Email: cszymans@ualberta.ca
Current Research Interests
We are interested in examining host-pathogen interactions in order to understand and exploit virulence mechanisms used by bacteria colonizing mucosal surfaces. Campylobacter jejuni, a leading cause of bacterial food poisoning worldwide, provides an exciting model system for our studies. My research group has been characterizing campylobacter glycosylation systems including the first identified bacterial N-linked protein glycosylation pathway (see image below) and the extremely variable capsular polysaccharides, that have been demonstrated to play important roles in chicken colonization, bacteriophage evasion and diarrheal disease. Analytical technologies such as high resolution magic angle spinning (HR-MAS) NMR, proteomics and microarrays coupled with representative model systems are being used for the identification of novel virulence determinants, gene and protein expression profiling, and elucidation of regulatory networks.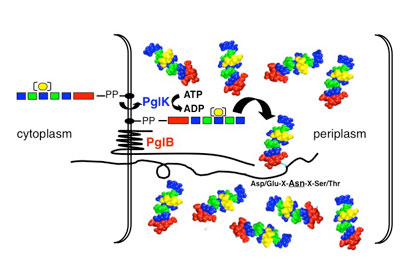 Dr. Szymanski is a Principal Investigator in the Alberta Glycomics Centre, an International research centre with unique capabilities in the development of carbohydrate-based therapeutics, analytical tools and glycoprotein engineering for human and animal health applications.
Dr. Szymanski is also the "Glycans in Microbe-Host Interactions" Subgroup Leader and Steering Committee Member in the Consortium for Functional Glycomics. With a membership of approximately 600 scientists worldwide, this large International initiative provides a networking forum and glycomics resources to enable participating investigators to better understand the role of glycans in health and disease.
Our laboratory also works closely with members of the Chemistry Department (http://www.chem.ualberta.ca/), National Institute for Nanotechnology (http://nint-innt.nrc-cnrc.gc.ca/main_e.html), Department of Medical Microbiology and Immunology (http://www.ualberta.ca/~mmi/) and the National Research Council - Institute for Biological Sciences (http://ibs-isb.nrc-cnrc.gc.ca/main_e.html)