Dr. Brian Lanoil > Associate Professor

Printer Friendly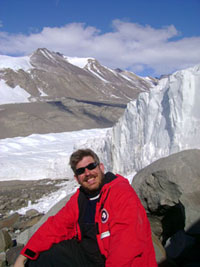 Contact
Room: M 458, Biological Sciences
Phone: (780) 248-1452
Fax: (780) 492-9234
Email: brian.lanoil@ualberta.ca
Thesis Title: Development and Application of Genomic DNA Based Methods for the Identification and Characterization of Marine Bacterioplankton

Thesis Advisor: Dr. Stephen Giovannoni, Professor of Microbiology, California Institute of Technology
Postdoctoral Scholar at the Jet Propulsion Laboratory, Division of Geology and Planetary Sciences, 1998-2001.

Postdoctral Advisor: Dr. Kenneth Nealson, Professor of Geomicrobiology and Director, Center for Life Detechtion Jet Propulsion Laboratory Assistant Professor, Assistant Professor, University of California at Riverside Department of Environmental Sciences. 2001-2008.
Associate Professor, University of Alberta Department of Biological Sciences. 2008-present

Current Research Interests
In general, my interests fall into the broad area of microbial ecology, focusing primarily on extreme environments. Some of the principal systems that I study include:

1. Subglacial and polar microbiology
2. Hypersaline, arsenic contaminated lakes
3. Various wildland soils


The methods that we use in my laboratory are both traditional microbiology and molecular biology (i.e. non-culture) based, although the emphasis is on non-culture based methods. Some of the main approaches we use include:

A. 16S rRNA based diversity characterization (i.e. clone library analysis, denaturing gradient gel electrophoresis, and other fingerprinting methods)
B. Metagenomics
C. Stable isotope probing
Dr. Lanoil is a participant in the Land Reclamation International Graduate School (
LRIGS
) program sponsored by NSERC CREATE.