Dr. Brian Lanoil > Associate Professor and Associate Chair, Research

Printer Friendly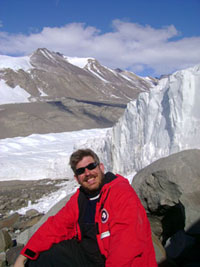 Contact
Room: M 458, Biological Sciences
Phone: (780) 248-1452
Fax: (780) 492-9234
Email: brian.lanoil@ualberta.ca
My interests fall into the broad area of microbial ecology and microbiology of extreme environments. The principle systems I study include:
1. Microbiology of icy arctic environments
The vast majority of Earth's biosphere exists in permanently cold environments, including polar regions (14% of surface area) and deep ocean (90% by volume). Microorganisms are often the sole or dominant (both numerically and in terms of biomass) inhabitants of widespread cold environments such as subglacial systems, high arctic tundra soils, ice cores, and sub-ice marine environments. These environments are particularly susceptible to climate change as they are often poised between frozen and unfrozen states. Previous work in our lab has focused on glacial, proglacial, and subglacial microbiology; Arctic soils; and sea ice microbiology. Current projects in the laboratory in this area include:
a. Succession processes in proglacial soils in southern Yukon
b. Response of sea ice microbial communities to climate change, Canadian High Arctic
c. Microbial responses to rapid climate change at the Pleistocene/Holocene boundary by study of permafrost archives, Klondike Region, Yukon
2. Microbiology of reclamation of energy extraction impacted systems ("reclamation genomics")
This is a relatively new area of research for my laboratory. Our focus is on using the high resilience and rapid adaptation of microbial communities to disturbance to help determine optimal reclamation pathways for systems impacted by energy extraction (conventional and non-conventional oil and gas extraction, including oil sands and "fracking"). We call this approach "reclamation genomics" and are looking for interested partners and students to pursue this research. Our current project involves examining the impact of different ratios of peat and subsoil in a peat-mineral mix reclamation substrate on microbial community structure and function.
The methods that we use in my laboratory are both traditional microbiology and (meta)genomics based, although the emphasis is on non-culture based methods. Some of the main approaches we use include:
A. 16S rRNA gene based diversity analyses (via high-throughput sequencing)
B. Metagenomics
C. Stable isotope probing

Dr. Lanoil is a participant in the Land Reclamation Graduate School (LRIGS) program sponsored by NSERC CREATE.